You can now begin enjoying the benefits of Control4 Smart Home OS 3.4  
The Control4 Smart Home OS 3.4.0 is a major release that enhances system notifications within the Control4 app to improve the ability of customers to use and manage their notifications.
Along with introducing system notifications,  enhancements to the platform's security is also part of this release. 
Additionally, a major upgrade to the Tunein driver is coming soon after release along with other Control4 platform features and bug fixes.
In-App Notification Management
The mobile app now has a new settings configuration that allows users to enable notifications for devices that generate events in the History view today. User can select what events they want a device to notify on, or disable notifications for that device entirely by disabling the bell icon to the left of the device name.
Deep Linking
Most push notifications will now support deep linking by default. This allows a user to jump to the most actionable screen inside the Control4 mobile app simply by pressing the push notification. For cameras, this will jump to the live view, or the event in the history view (if it has been recorded), for other devices such as locks or sensors, it will take you the applicable locks and sensors screen so the user can immediately see the state of the device.
History View Notification Enablement (Swipe)
Users can turn on/off push notifications for a single event right from the History view by swiping right to left on an event.
User Management and Account Details
Invite new users, edit user, define a role (admin/standard)
Allow property details to be updated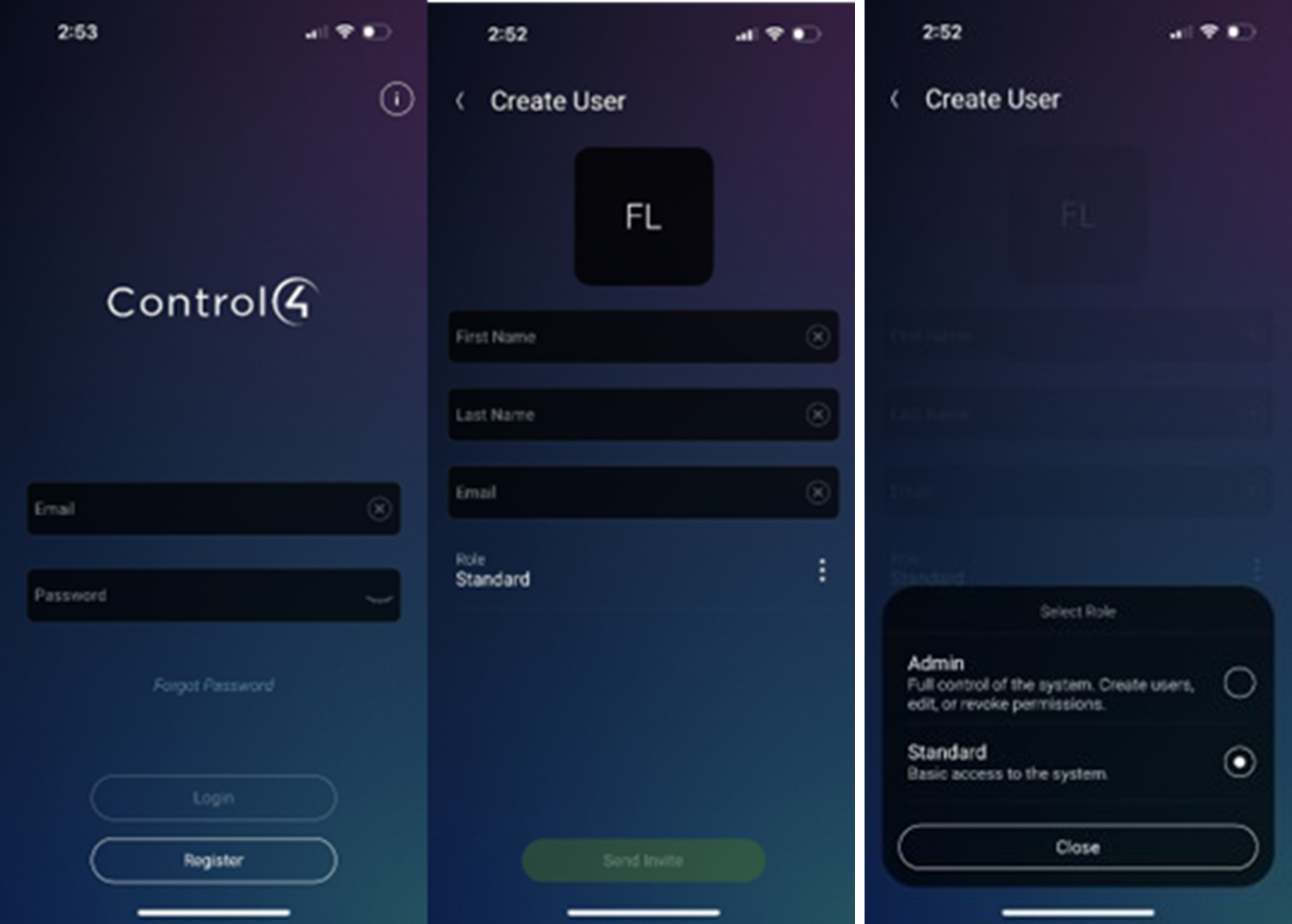 Surveillance Experience Updates


Live Thumbnails with Indicators–Live indicator icons now appear when streaming live camera feeds. When a camera is not live; a "time ago" icon appears to let the user know how long ago the snapshot was taken. Additionally, we have enhanced the live thumb-nail view for tablets and our T4 touchscreens to have a scrollable 2×2 grid of live thumb-nails that takes advantage of the larger format screens. Tablet and touchscreen users can still use the classic thumbnail screen that shows up to 9 snapshots at a time.




Camera audio support–The Control4 camera experience now supports incoming audio from X20 cameras.
New and improved wizard flow for creating lighting scenes.  Easily add, edit, or remove a lighting scene.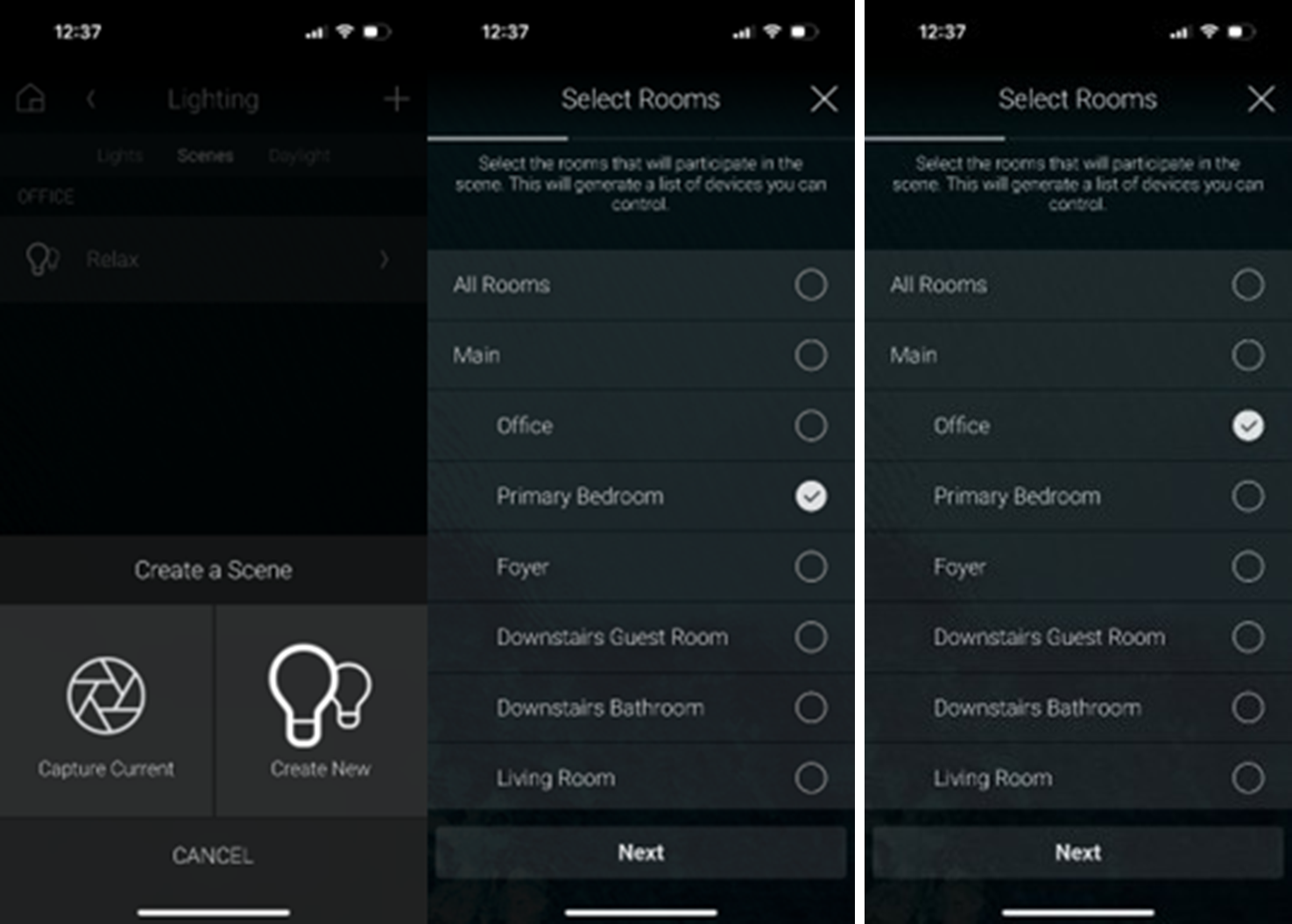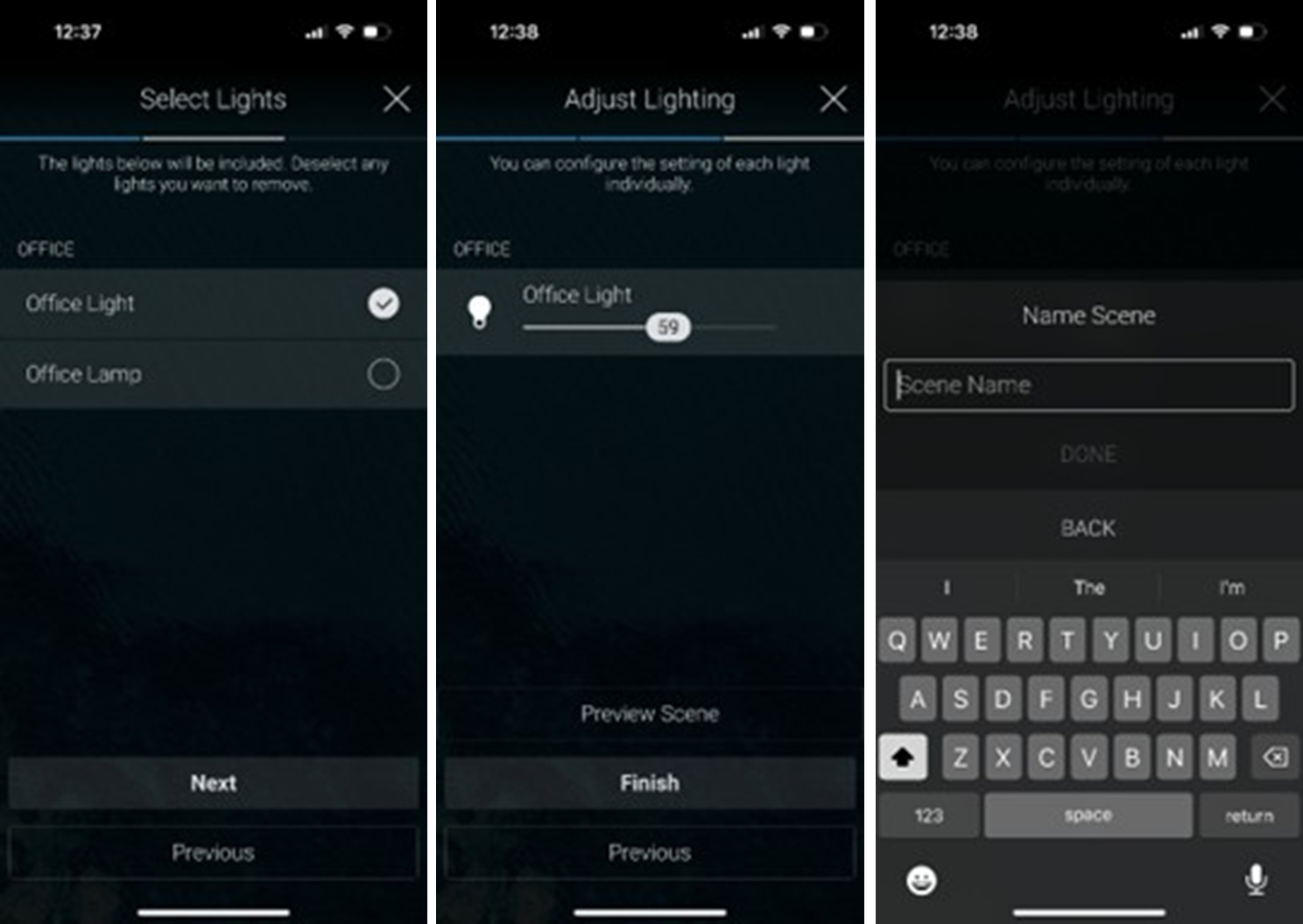 Lighting Color Picker (Coming in Q4 2023)
The color and temperature pickers have been redesigned to improve usability. To save a color preset you need to select the heart icon and name the preset.
The wallpaper picker has been redesigned to improve usability based on customer feed-back.
A small improvement to the room picker list to include a preview of the room wallpaper to make finding the correct room easier for visually oriented people.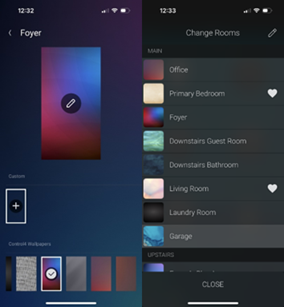 Settings has been redesigned with our new UI kit to continue aligning the whole OS with the new design language first launched on the Halo remotes. It makes the experience more intuitive and sets the UI up for goodies that will be delivered in the future.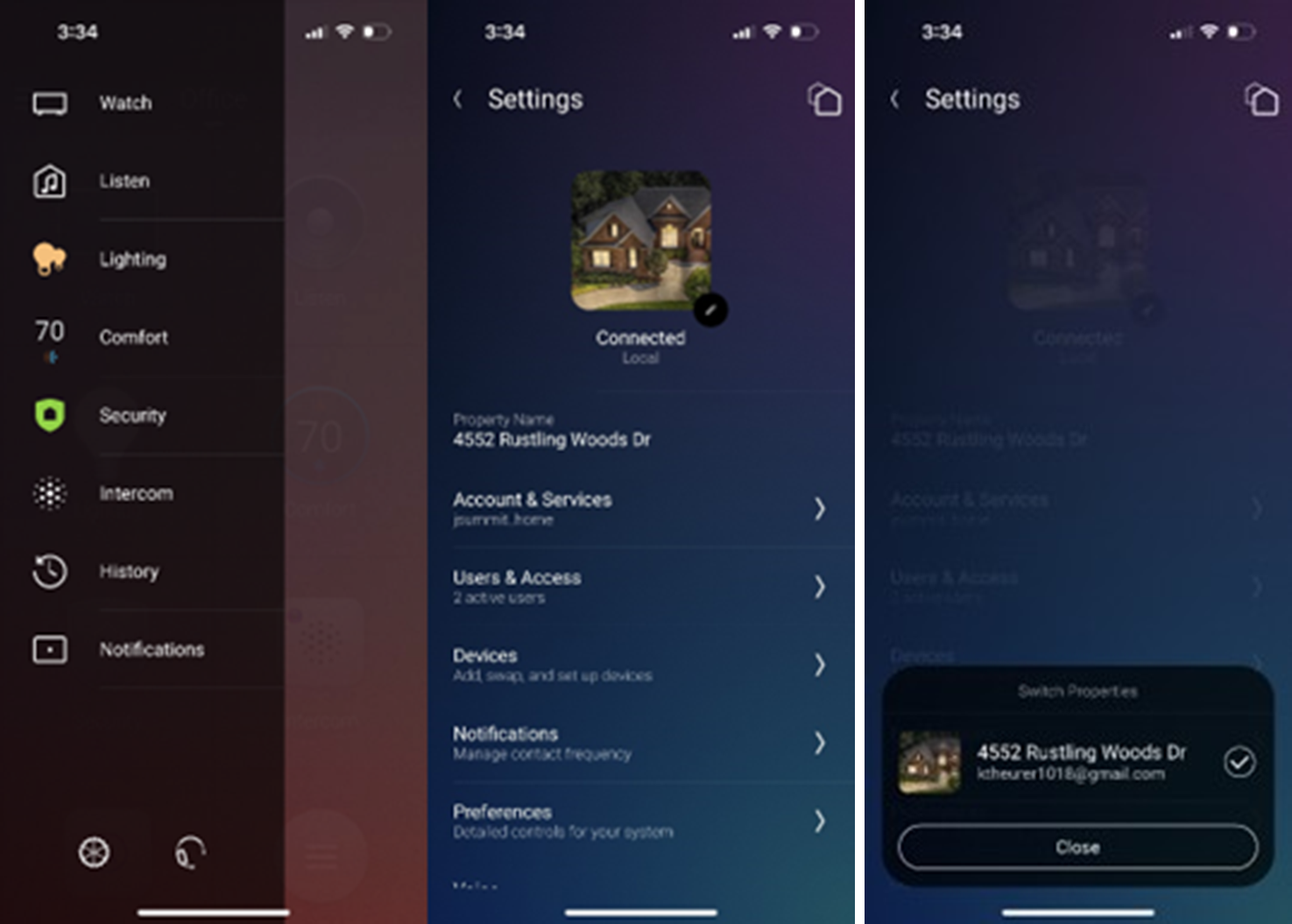 With OS 3.4.0 there is a new TuneIn driver available for systems.
A TuneIn account is required for the new TuneIn driver, but it doesn't have to be a premium account. The new driver supports TuneIn premium account features and continues to support free TuneIn account features.
The previous TuneIn driver will be renamed "TuneIn (Legacy, OS2)" in the local and online driver DB. The new driver will be named "TuneIn" and will be available in the online driver DB.
There are no changes to existing customer installations using the current TuneIn driver.  Customer can install the new TuneIn driver on their own by using the "Manage Music" driver.
If you are looking for a replacement for the PC app that existed for OS 2, we have some good news. Beginning a year ago, we started supporting running the Control4 app on your computer.
Requires an Apple Mac Computer with an M1/M2 chipset or PC running the latest version of Windows 11.
Apple M1/M2 Mac Setup
1. Open the Apple App Store.
2. Install Control4.
Windows 11 PC Setup
1.  Open the Microsoft App Store.
2.  Install the Amazon Appstore.
3.  Open the Amazon Appstore.
4.  Install Control4.
Known Issues:  The camera experience is crashing on Windows 11 PCs. This is a bug on Microsoft's side, and we are waiting for them to release a fix.
This is the list of bugs resolved over the course of the OS 3.4.0 release.
ZWAVE-682 Repetitive messages causing devices going offline
ZWAVE-665 Z-Wave mesh crash – beta report investigation
ZWAVE-660 Deleting selected controller driver from the project, will prevent selecting new controller until director is restarted
ZWAVE-506 Z-Wave: ZPC ignores on/off messages for dimming devices
SYS-7907 tmpfs on CoreX is not configured correctly
SYS-7587 COREx Controllers do not pass MQA Audio to digital outputs correctly.
SYS-7371 control4-osd is enabled in sysman but not running on core controllers
SYS-7268 Core 3 OSD stuck on "Connecting to Director"
SYS-7256 CORE1 ignores Disable Front LEDs setting in driver after update.
SYS-7255 CORE Controller: getting a blank screen with no signal, rather than a properly displayed OSD with no icons
QT-1442 CORE – Onscreen "Failed to re-connect to Director"
QT-1437 Favorites – Comfort icon is shown in favorites page in all rooms and on menu if no experiences
QT-1295 Core5 OSD Missing Info
LIGHT-3753 Toggle Scenes break Advanced Lighting agent Scene List
EMCOMM-1803 Core controllers zigbee fails when ramping commands to ir controlled devices.
EMCOMM-1780 Zserver hung on thread join
EMCOMM-1666 CA1 Mesh down
EMCOMM-1531 Zigbee devices stop responding after 11 days of uptime
EL-8872 IR Code does not work on Core
DRIV-8947 Data analytics agent will add to composer but wont load into agent list
DC-7005 Controller Migration wizard doesn't allow the HC-800 to migrate from 3.3.0 -> 3.3.0
DC-6929 Unable to use migration wizard to move from Core 1 to the lite
DC-6752 Form for Z-Wave DSK remains available after timeout and device being added
DC-6556 HTML tab inside driver lose focus
CS-11755 Cannot backup a project through broker unless a manual backup has been taken through the backup agent at least once
CS-11493 Push/Email notification – Date format issue (AU/NZ)
CS-11398 CORE5 Director Lock Up
CI-23045 Room Favorite Editing: Left-over corrupt data can crash Navigator
CI-22188 T3 'Unfortunately Screensaver Has Stopped' error after update
CI-21921 Now Playing Not Showing This Morning
CI-21483 T3 'Unfortunately Screensaver Has Stopped' error resets screensaver settings
C4OS-10567 Broker responds to clearing a project by being unresponsive for 2-5 minutes
C4OS-10466 History Agent: Showing 'No History' on Touch Screens and Mobile Devices
C4OS-10183 Push notification is causing a sigsegv 11 crashing director
C4OS-10092 T4 Touch Screen – stuck on a spinning icon and the screen is not loading the UI
C4OS-9694 Broker: Identification fails to connect a driver
C4OS-9589 Sending a name change to an item without a string argument fails ungrace-fully
C4OS-9585 Getting 504 error from broker on multiple automated tests
C4OS-8841 Broker route throws an error
C4OS-8228 system-version is missing on core controllers
C4OS-8048 The request GET /api/v1/locations/rooms/[roomId]/media/movies returns an empty list
AV-9155 MDM Agent not switching audio
AV-9144 Errant reselect after Room Off
AV-9126 Error creating external profile SIP UA – 3.3.3
AV-9010 Core5 DSP settings for digital outputs do not persist after reboot
AV-8984 CORE Lite: controller (sole one in project) has zwave fields and tabs in CP
AV-8981 Core Lite – OSD animation
AV-8962 Support "Snapshot" with camera/door station event
AV-8951 Some T3s remain not ready in freeswitch after a refresh navs
AV-8940 Core5 Digital Output Volume not able to be controlled
AV-8908 CORE5 Test Tone – Can't disable.
AV-8812 AVSwitch Proxy filtering params for SET_VOLUME_LEVEL command
AV-8810 Core5 has too many "Null Modem Enabled" toggle buttons in the driver UI
AV-8724 connection element not working in OS 3.3.2
AV-8667 Investigate voice going offline for AppleTV
AV-8647 Wrong value for Intercom Ringer, Speaker and Microphone can be set with Broker API Command
AV-8540 Audio desync between a Core3 and an EA3
AV-8537 All intercom devices offline after update
AV-8532 Triad driver doesn't turn off zones
AV-8471 Receiver Proxy Control Control Pulse Bass Does not have an OUTPUT Parameter
AV-8468 Core-5 digital out 1 doesn't change volume and is really loud
AV-8373 CORE 5 controller MDU calls failing to connect
AV-7989 Yamaha MTX: Pathing is selecting the wrong Controller output when using a Non Binding Connection
AV-5305 Media Player Proxy cannot pass audio path when bound to AVSwitch Pro
Previous Release Benefits

CERTIFIED HOME AND BUILDING AUTOMATION, NETWORK and SINGLE TOUCH ENTERTAINMENT CONTROL.

Proven quality components, industry experience, and industry accredited practices mean you benefit with a certified system that ALWAYS meets what we guarantee and typically exceeds what we promise.  Every job, every time.

SERVING TAHOE & TRUCKEE SINCE 2002